A CONVERSATION WITH GENIE SWEETNESS *ON LOCATION*: LEE MAJOR (KILLA CUP CLASH 2013)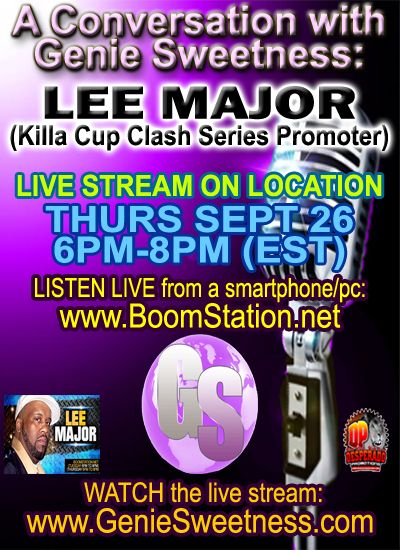 DIRECT LINK FOR MOBILE USERS:
http://i894.photobucket.com/albums/ac142/GenieSweetness/WebPromotions/GSconvoB_zps87095e20.jpg
Tune in to "
A Conversation With Genie Sweetness
"
LIVE & ON LOCATION
! Genie Sweetness takes her Conversation series to Brooklyn, NY,
Thursday, September 26, 2013
. She will sit down with Lee Major to discuss his annual event,
"Killa Cup Clash Series"
. Join them
6pm-8pm (EST)
from your
PC
@
www.BoomStation.net
, your smartphone on the
TuneIn app
(search BoomStation)
http://tunein.com/radio/Boomstation-s116578/
,
iPhone/iPad
https://itunes.apple.com/us/app/boomstation/id550392486?mt=8
or right here on
GenieSweetness.com
!
DIGITAL PROMOTIONAL SPONSOR:

DESPERADO/REGGAEPROMOTIONS.COM
WHAT: A Conversation With Genie Sweetness: Lee Major (Killa Cup Clash Series Promoter)
WHEN: Thursday, September 26th, 6pm - 8pm (EST)
LISTEN LIVE: PC www.BoomStation.net / iPhone or iPad https://itunes.apple.com/us/app/boomstation/id550392486?mt=8 / TuneIn app (search BoomStation) http://tunein.com/radio/Boomstation-s116578
WATCH LIVE:
www.GenieSweetness.com
CHECK OUT MORE EPISODES OF "A CONVERSATION WITH GENIE SWEETNESS" on YOUTUBE! CLICK HERE -
https://www.youtube.com/playlist?list=PL55424F93DAE5E745
_____________________________________________________________________
KILLER CUP CLASH SERIES - SAT OCT 19 (BROOKLYN, NY, USA)
DANCEHALL ARCHIVES/BBR FITNESS/WAR CHEF Presents
KILLA CUP CLASH SERIES 2013
LOVE PEOPLE (returning champs) vs CAMOUFLAGE vs. KING FARGO vs. LOVE LINE vs. ORIJAHNAL VYBZ
Sounds by: Masta Linx
Early fire: Lion Vibes
Saturday, October 19, 2013, 12:30 am
Albany Manor (585 Albany Ave, Brooklyn, NY)
Admission $25, Ladies free before 1am